call Brendan - 087 173 9441
Delivering nationwide within 48hrs
Brenken provides high quality PVC dog kennels and galvanised dog runs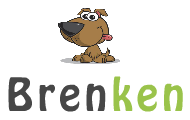 Our unique PVC kennels are designed to give your pet a comfortable, secure and longlasting warm home.
Externally our kennels are PVC cladded & built on the same theory as a timber framed house. Unlike conventional timber dog houses which have a much shorter lifespan, our unique pvc dog houses will last your pet much longer. They are fully weather resistant, maintenance free and are easily cleaned.
The kennels are WBP plylined internally for the most comfort & warmth for your pet during the winter months. We include rebated vented doors and a raised floor for extra air flow on every single kennel. This keeps your pet cool for those long summer days.
We have competitive rates and deliver nationwide by courier. The kennels arrive to your door fully assembled and ready for use. We provide various sizes and a range of colours.
We stock heavy duty galvanised dog runs which come in a range of sizes. These 8cm bar panels are very easily assembled to form a strong enclosure. Void panels are available to use in conjunction with our dog kennels. This will give your pet increased space as the kennel is placed on the outside. Extra panels can be purchased at a later stage to increase the size of the dog run.
Brenken offers quick & reliable delivery service nationwide, most of our products will be delivered within 48hours.